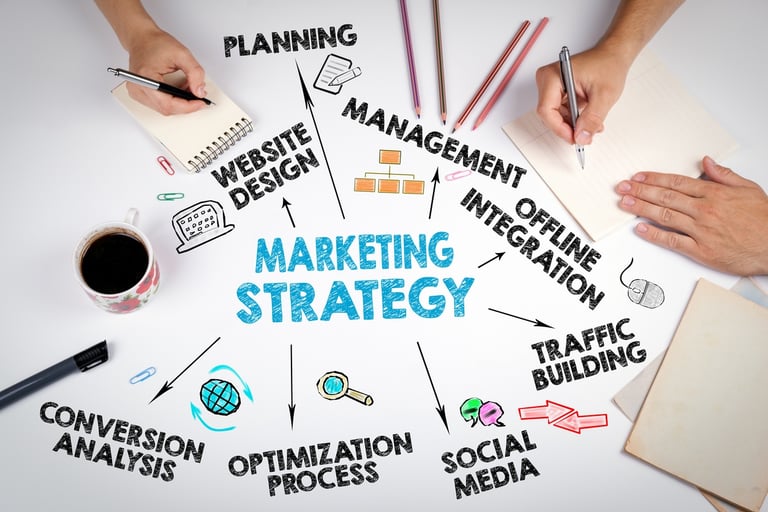 Landing pages are all about forms, their sole purpose is to obtain information from visitors through the form included on the page. When designed correctly, landing pages can help your nonprofit connect with people you might otherwise have missed. Your nonprofit can use landing pages to promote a variety of actions. Just not all at once. A landing page should prompt people to do one specific thing. And, it must be compelling in order to increase donors, volunteers and/or your emailing list.
Before we get into our landing page best practices, it's important to benchmark and understand what constitutes a good landing page. In terms of a conversion rate, a good goal to aim for is 20%. Although, tt's expected that a landing page promoting dontations would have a less traffic than an eBook offer. Using a CRM like Hubspot, allows you to ceate and analyze landing pages that generate leads and look great on any device, with no designers or IT help required.
The "Blink Test"
At a quick glance, a visitor should be able to understand the nature of the offer and why it's valuable to them.
Write a Clear, Concise, Action-Oriented Headline.
Communicate how your offer will help your website visitors solve a problem or benefit from an opportunity. Tell your visitors what they're getting, or who they are helping and how they are going to access it. Here is a great example of an action-oriented title from UNHCR the United Nations Refugee Agency.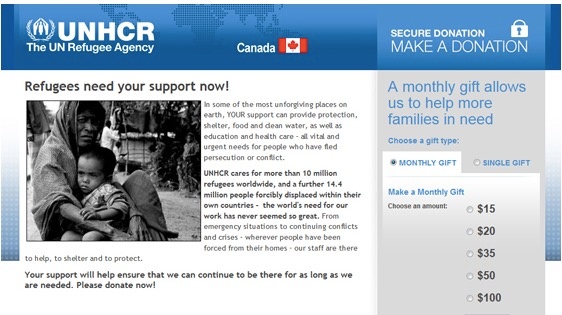 Explain the offer clearly and place visual emphasis on the value.
In 1-3 sentences, explain what the offer is. Write another 1-3 sentences that details how someone would benefit from the offer. In this example from World Vision Canada, they provide a quick bio on a 4 year old boy named Drissa from Mali. By sponsoring Drissa, you will be able to help him and his family attain self-relaince.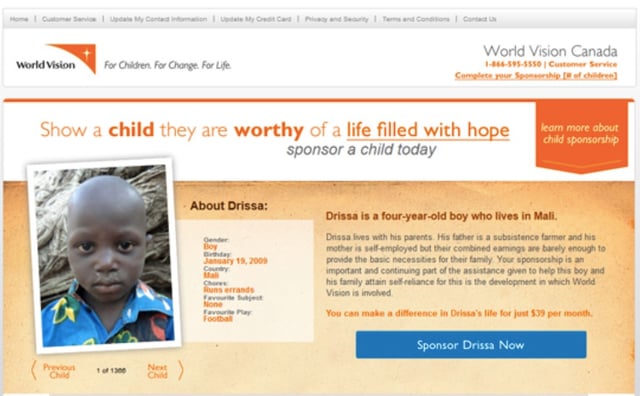 Remove the navigation menu and links.
This removes distractions, increasing the emphasis on the offer.
Related: Increase your Nonprofits Donations with Email Marketing
The form length mirrors the value of the offer.
In other words, the more valuable the offer, the more information you can ask for. Ask yourself- How much is my visitor willing to share with me in order to get this offer?

Include relevant image, animation or short video.
A visual representation can communicate the offer much quicker than a visitor can read about the offer. According to 3M images are processed 60,000 times faster than text.
Add social sharing icons.
Adding social sharing icons allows your visitor to spread the word with their friends and collegues.