If the global pandemic has taught us anything, it is that so much of our nonprofit work can be done online. Over the past year, we have seen galas, 5ks, auctions, and annual fundraisers adapt to being virtual. But where does social media fit into it all?
Statistics have found that 55% of people who engage with social media end up taking an action, like purchasing a product or volunteering their time, and 59% of those people donate money as their action. Over the past few years, social media platforms have made it easier for nonprofits to fundraise directly on their platforms, rather than using the platforms for fundraising event promotion. Let's take a look at what each platform has to offer, how to optimize your content for fundraising, and the best practices for having a successful social media fundraising campaign.
Facebook
Of all the social media platforms, Facebook offers the most options for social fundraising. Nonprofits who are certified through Facebook have the ability to host fundraisers on their Facebook business pages, allowing them to set campaign dates and adjustable campaign goals. Nonprofits also have the ability to boost social media posts promoting their fundraiser with a "donate now" button or add a donation button to a Facebook Live video.
Facebook offers the opportunity for nonprofits to activate or engage their supporters. At any moment in time, an individual user can begin a fundraiser on behalf of their favorite nonprofit organization. Whether it is for a birthday, day of recognition, or an extra effort during a giving campaign, supporters, board members, or influencers can help raise money on their Facebook page.
Facebook is partnered with Guide Star, the nonprofit reporting company, which offers a level of transparency for nonprofits, making followers feel more secure when donating online. Because nonprofits have to be certified and set up with Facebook payments in order to fundraise, it certifies that nonprofits will receive 100% of funds raised during campaigns.
Looking to set up Facebook Fundraising Tools? Contact Tapp Network, we can help you out!
Instagram
Nonprofits looking to raise funds in a fun and interactive way can look to Instagram to do their fundraising. Since the introduction of Instagram stories, getting up close and personal with your followers has become incredibly easy, allowing you to share small bites of your business, promote posts on your grid, and now fundraise!
The Instagram story Donation button allows nonprofits or supporters to fundraise on their story. Because Instagram is owned by Facebook, any nonprofit that is eligible for fundraising on Facebook is also eligible on Instagram. Please note that in addition to having eligibility through Facebook, your profile must also be a "business account" rather than a personal account.
Because Instagram stories only last 24 hours, it's a perfect tool to use for special days like Giving Tuesday. If you'd like to keep your donation button alive beyond that, you can make the story a highlight on your profile and periodically direct your followers to the highlight to contribute.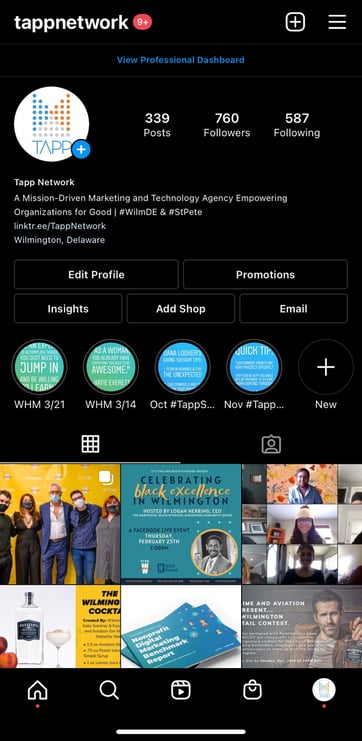 The donation button can also be used on Instagram Live, which is great for fundraising during a virtual event, or during a virtual collaboration with an influencer. Please note that Instagram Live fundraising only lasts as long as your live video.
Learn how to use the Instagram story donation button here and add stories to your highlights here.
Twitter
While Twitter does not currently have any built-in fundraising tools, there is still a time and place to fundraise on the platform. The key to successful fundraising on Twitter can be summed up in one word: Engagement.
Twitter by nature is very conversational, and those that find success on the platform have consistent levels of engagement with their followers. So, if you are fundraising on Twitter, you need to optimize your tweet for engagement. This includes having a clear CTA and link to the fundraiser, visuals (because tweets with images get 313% more engagement than tweets without), and using the appropriate hashtags and/or tagging any collaborators you are working with. Hashtags include industry-wide or geographical tags, as well as campaign-specific hashtags you make up.
From there, you want to encourage your followers, members, or staff to engage with your tweet by either liking, replying, or retweeting to gain more impressions and reach. The higher your reach and impressions, the more screens and people see your campaign, which makes it more likely for people to make contributions.
LinkedIn
When we think of LinkedIn, we think about networking. The long-term relationships we build through our networks on LinkedIn are the exact way we can leverage those connections into becoming donors.
Optimizing LinkedIn for fundraising should start with your Company page, filling it with the most up-to-date and compelling information about your nonprofit, as well as the project you are fundraising for. From there you should cast a wide net for your connections, bringing in people from different parts of your life, like fellow alumni from your college, past coworkers, and acquaintances you meet at networking events. Joining groups that are relevant to your work also helps widen your net.
Once you have your net cast, strategically utilize status updates to share and connect with others about the work you are doing, always looking to build your relationships as you go. By the time you are ready to make your ask, you have a network of people who are invested in what you do!
TikTok
How do we generate a new generation of donors through social media? The short-form video platform TikTok is the answer! With over 2 billion downloads and 62% of US TikTok users being aged 10-29, nonprofits big and small are leveraging TikTok engagement into donations.
The "Support nonprofit" sticker, which is powered by Tiltify, the fundraising platform, allows users to share videos and go live with direct links to donate to larger charities like the American Cancer Society and Boys & Girls Club of America. The sticker currently only boasts about 100 charities, but if your nonprofit is already using Tiltify for fundraising, you can contact them to learn more about the potential of getting your own sticker. The same partnership through Tiltify allows users to add one of the listed charities to their profile for donations at any time.
Nonprofit organizations that do not have the ability to utilize the donation sticker are populating their profiles with engaging content to prompt younger audiences to take action. Profile bios are allowed to contain links, so establishing a LinkTree with your nonprofit's other social media channels and fundraiser link gives users easy access to donate.
Learn how to add the support nonprofit sticker to your TikTok here.
LinkTree
Linktree is a great tool for any non-profit that is looking to cross-promote their channels. Known as the "only link you'll ever need" Linktree creates a landing page to house all of your social/important links, making it a one-stop-shop for accessing your company. Linktree is great for platforms with bio character limits or single link lines (like Instagram, Twitter, and Tiktok) and allows you to link your social channels, website, and fundraising page.
Learn more about Linktree and start your account here.
Best Practices for Launching Social Media Fundraising
No matter what platform you are using, there are a number of ways to plan and engage with your audience to ensure you have the best opportunity of meeting your fundraising goals.
Build a content calendar around the campaign: Determine which platforms you plan to use during your fundraiser, who your audience is for each, and then build out content and copy that best communicates your ask to each audience. Promotion should begin weeks prior to the start of your fundraiser, both building excitement and preparing your audience to give.


Set a time or build a theme that is meaningful: Are there any upcoming holidays or industry awareness initiatives coming up that would make your audience more inclined to give during a certain time? Are you planning your fundraiser near the beginning of a new season? Being strategic in timing can help bring in a larger number of donations.


Activate your major donors: Including your long-term donors and board members in your fundraising promotion can have huge benefits to your campaign. Issuing them a toolkit with social posts for them to share on their personal social pages, or creating incentive/competition amongst them to individually fundraise on their channels for you can help gain a wider reach.


Set attainable goals: This one may seem obvious, but setting reachable goals and sharing visuals of your progress in the campaign is a very simple way to attract more donors. The best part is, if you have reached your attainable goal prior to your campaign deadline, you can celebrate your achievement, and then extend your goal further and continue to create excitement about your campaign.


Continue to engage your donors after the campaign ends: This one is huge for retaining donors. Be sure that when creating your content calendar for the campaign that you schedule posts days, weeks, and even months after the campaign ends. You want to make sure you are thanking your donors on each platform for their contributions, celebrating the achievements your community has made by reaching your goals and then showing them the impact of their donation.
Social media fundraising is becoming more and more important for nonprofits to utilize. It is a very direct way to reach potential donors, and there are so many tools available to connect and solicit donations from all types of audiences. Being strategic in how you build your campaign, customizing your content, and activating your long-term donors all can contribute to a successful campaign.
Looking to grow your donor base and increase your nonprofit's impact? Contact us to learn more about our social media solutions.