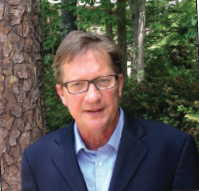 January 16th, 2018 - The room filled up quickly as attendee's rushed to take their seats. The show was about to begin and the audience was in for a treat. Former Director of Development for Major Gifts, Stanford University and Managing Director of Consulting Services at Cogeo (Fundraising Partner to Tapp Network), Rob Kusel was ready to present at his first of many Tapp Social events. Often delving into interesting and educational anecdotes, Rob invited the audience to share their own stories and receive helpful advice and recommendations.
Fundraising can be a very complex world to navigate so it put many at ease to hear Rob's expertise on larger topics such as "major gifts" and "capital campaigns" down to "events" and "annual and membership giving". There was a lot to be covered and something for everyone who attended!
To check out some of the highlights, you can view the Storify which encompasses most of the social media stories trends, and engagements that were happening online during the event.
If you weren't able to attend, don't worry, you're not completely out of luck. We have a Facebook Live Video of the presentation that you can watch right now! In addition, due to an overwhelming request to learn more about the House of Development, Rob will be returning to Tapp for future summits to expand upon and offer his insight to this methods. Therefore, don't fear, you'll be able to get in on his industry tips, tricks, and best practices in the future.
Don't miss out! Look to register for our next event, which will be on February 13th, 2018. Look out for Rob to make another appearance this spring. In the meantime, learn more about Rob Kusel and Cogeo!