We can't start this post without thanking all the incredible speakers and attendees who participated in the event and brought so much energy and enthusiasm. The 3 panels did a phenomenal job, and left us feeling inspired to get out there and do something! If you weren't able to make it, we don't want you to miss out (well, we do want you to experience a bit of FOMO). Read on for a short recap and some takeaways from the event.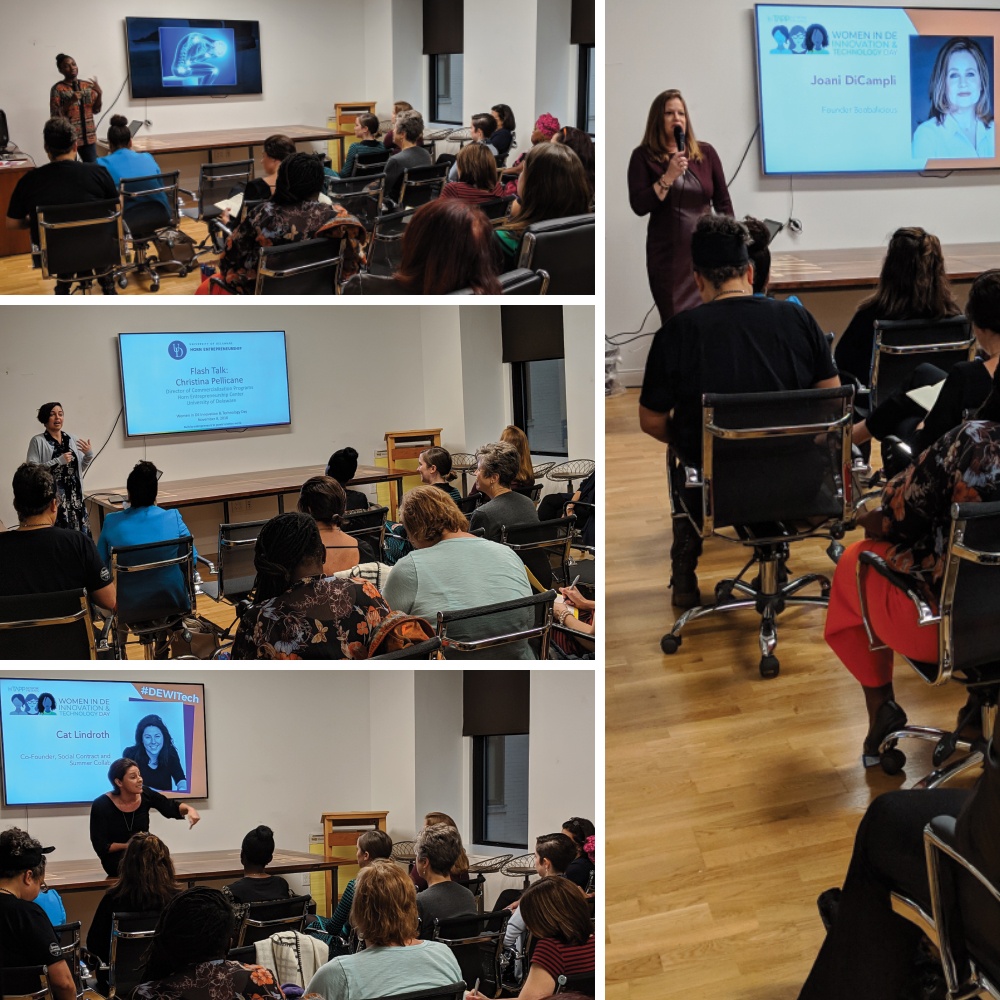 Entrepreneur Flash Talks
Our panel of entrepreneurs included:
Joani DiCampli, Founder Boobalicious
Gayle Dillman, Co-Owner, Gable Music Ventures LLC, Founder, The Ladybug Festival
Amira Idris, CEO and Founder, TheraV
Cat Lindroth, Co-Founder, Social Contract and Summer Collab
Christina Pellicane, Director of Commercialization Programs, Horn Entrepreneurship Center at the University of Delaware
These empowered ladies shared their individual journeys and left us with a few lessons, including:
Check in with yourself and your mission of 'why' you are doing what you're doing. Are you creating a company? Remember to ask yourself why. Check in with your original purpose, it's going to help center you and keep you going.
Believe in your ideas. They fuel who you are and will provide you with what you need to succeed. Look for people that want to help you along the way - you can find them everywhere.
Do what you were designed to do. Imagine a world if everyone worked in an area that didn't require a piece of paper to validate them. A world where we all could collaborate our efforts based upon our true passions.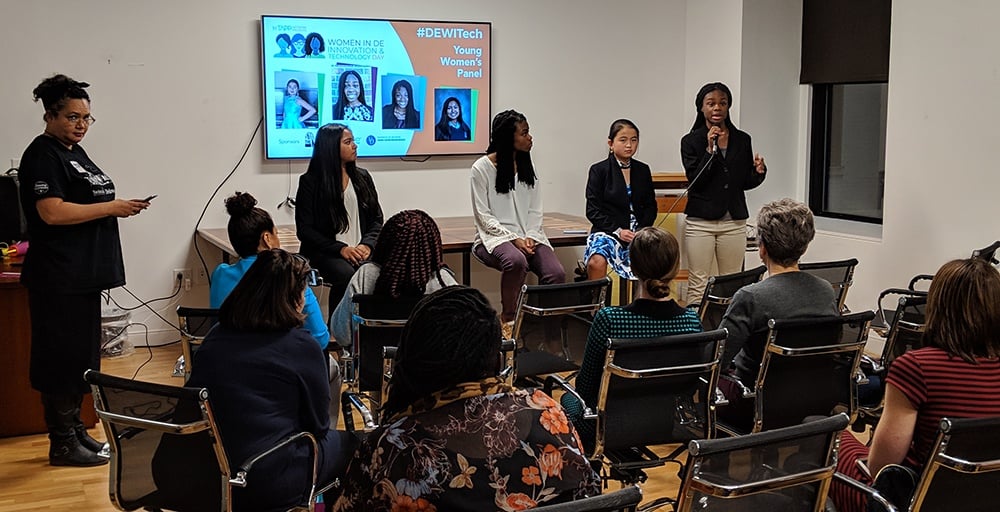 Young Women's Panel
Our inspiring young women (most of them still in high school!) included:
Megan Chen, Entrepreneur, Founder of Re-Feeding America, Author of Finding Tiger
Deborah Olatunji, Aspiring Missionary Doctor and Educator, GripTape, Founder of the Student Leadership Initiative Program
Dorcas Olatunji, Aspiring Attorney and Programmer, Transforming Transportation app
Riya Setty, Aspiring Programmer and Healthcare Professional, Founder of the Women in STEM Experience, Advocate of Computer Science Education for Females
Really?!??? These young women are creating solutions for a better world for all of us. They have and are continuing to find challenges around them that need someone to figure it out. And these ladies are doing just that. WOW. They are shaping the future for all of us.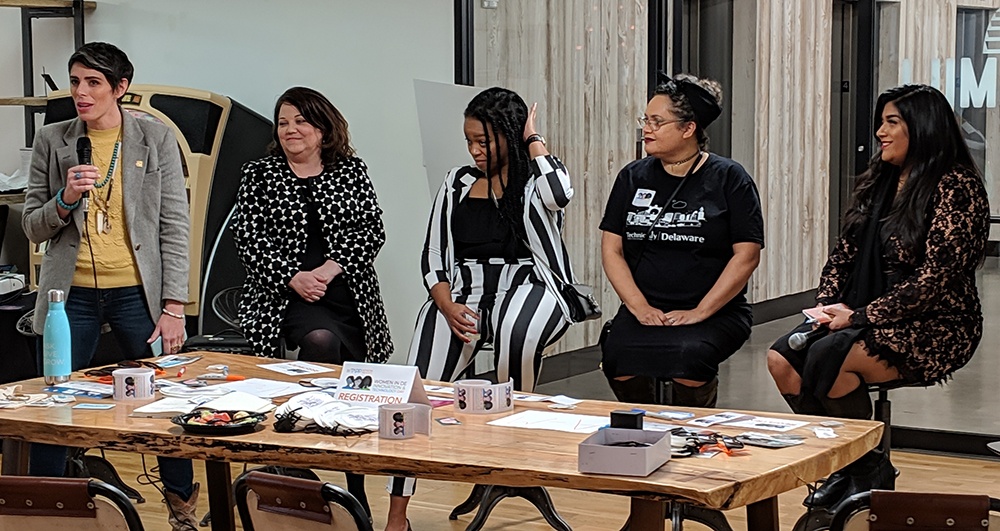 Women in Digital Open Meetup
And our final, official panel was hosted by Women in Digital, a group dedicated to accelerating the advancement and growth of women in digital creative fields. Founder Alaina Shearer interviewed our panelists:
Mona Parikh, Managing Director, Start It Up Delaware
Holly Quinn, Lead Reporter, Technical.ly Delware
Jocelyn Harper, Full Stack Engineer, Capital One
Catherine Burch, Innovation Center Director, The Health & Technology Innovation Center at Christiana Care
The conversation covered the ups and downs of their careers, as well as how these women navigated some of the obstacles of being a woman in a male-dominated work environment. The panel ended with an exercise involving audience participation and some brutal honesty.
Alaina asked members of the audience to define questions they have about their careers. Then, using one member as an example, she led us through the process of active listening, defining the problem, and then providing helpful input. Essentially a demonstration of how women can build women up and support each other in their careers.
It was a surprisingly powerful exercise, punctuated by equally powerful statistics, like the fact that men ask for raises 4x as often as women, AND when they do ask, it's for 60% as much.
People interested in learning more about Women in Digital can visit their site, WomenIn.Digital.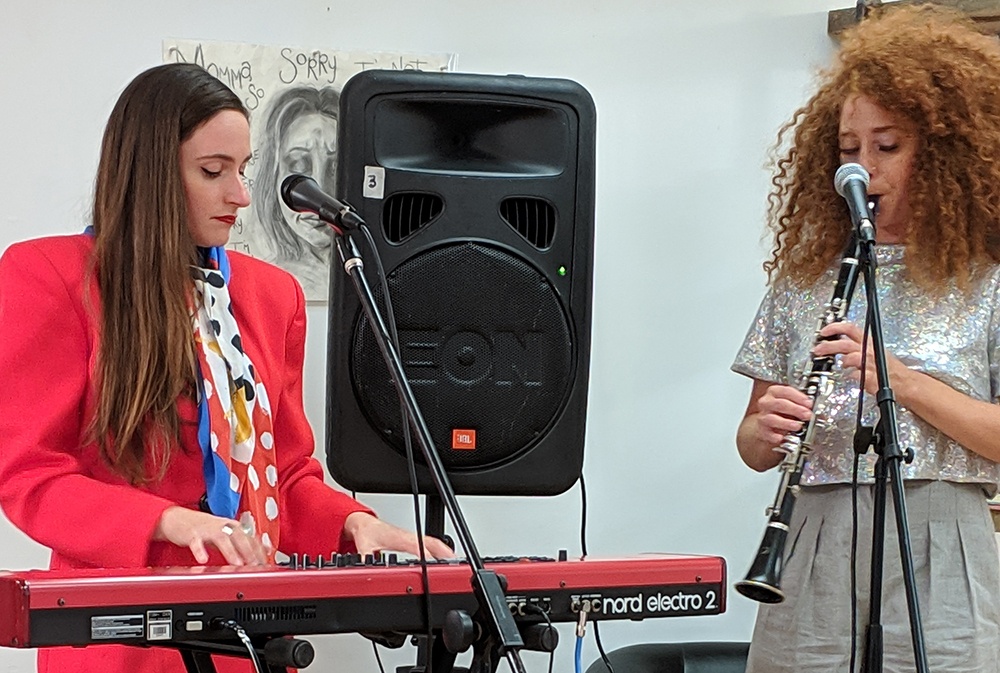 Ending Notes
We also had great networking, live music by Outcalls band, DJ ShadyLady spun some great tunes, and food catered from Tonic Bar. Overall the event was such a hit that plans are in motion for #DEWITech 2019! (If not sooner...)
Check www.InnovativeWoman.com for updates or sign up for our newsletter.
If you'd like to sponsor these events, we want to talk with you! We're also looking to grow the team. We want to hear from you - if you know of women that are creating amazing work, inspiring others and want to help us build awareness and empower one another, drop us a note - we'd love to collaborate.
And one more final thank you to all our sponsors!