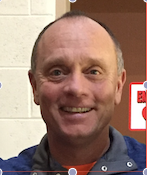 NAME: John Cawley
WHO IS HE? John is the founder and CEO of InspyrGear, a company that developed a brand of "gear" to help others Make a difference, not just on their own, but to create impact in others who see those empowering messages.
KEY FACTS:
John turned his own struggle with addition into a positive light by using his experience to inspire others via the brands and quotes that are printed on Inspyr Gear products.


Inspyr has a community of people that called the "Inspyr Tribe." Their role is to express their own inspiration to effect those around them in a positive light.

WHAT'S HE DOING AT THE SUMMIT?
John lives by the mantra, Make a difference, not just for yourself but for others who see your empowering message. He'll be sharing the 10 guidelines that help him continue to focus on the contagious and powerful aspects of positivity and the amazing things that can happen!
TIME: 3:15 - 3:45 PM
Date: June 19th, 2018
Location: Theatre N @ the Nemours Building,
1007 N. Orange Street,
Wilmington, DE 19802
Agenda: 1:00 - 5:30 PM Speaker Presentations
5:30 - 8:00 PM Happy Hour/Networking
This free event is a movement connecting purpose driven organizations and leaders seeking to elevate their communities through the convergence of technology, communications and innovation.
Other featured guests include:
Tickets and seating are limited to this FREE Event. Don't miss it!