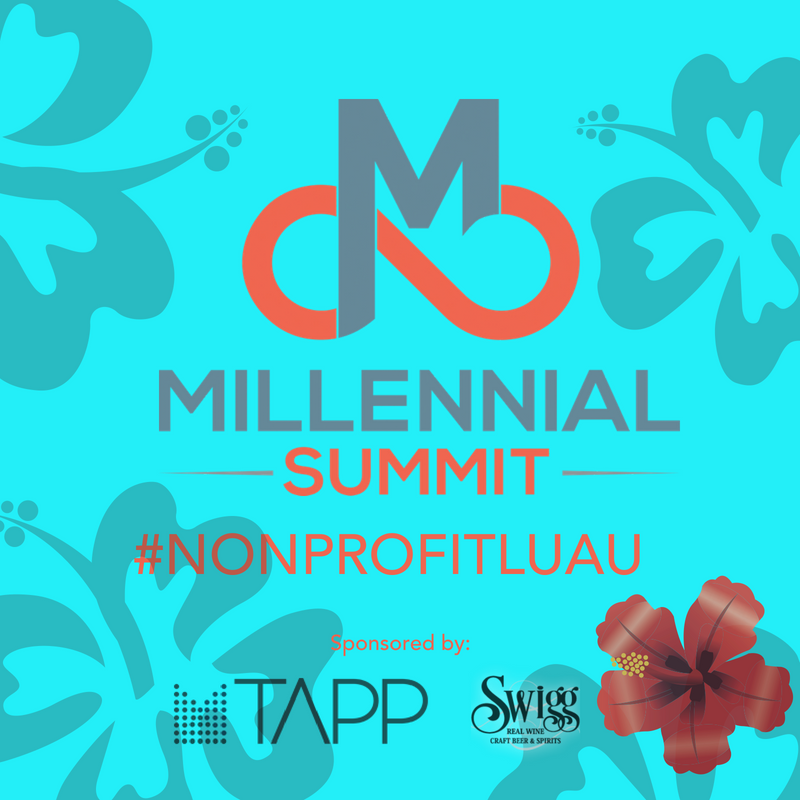 Do you want to get involved with a nonprofit, but you've got a lot of questions?
What type of nonprofit would be a good fit?

What nonprofits are even out there?

How much of a time commitment will it require?

Perhaps you're interested in becoming a board member to build your resume, but what des that entail?
Well, we're proud to announce that if you will be at this year's 2nd Annual Millennial Summit, we've got just the ticket! Say, aloha to the #NonprofitLuau!
Not only will you have the opportunity to meet and greet up to 20 organizations in about 30 minutes, but you will also be welcomed with a glass of wine provided by Swigg and help one of the nonprofits win a social media consultation with us!
Check out our official press release for all the details and don't forget to use #NonprofitLuau to participate in the contest!
FOR IMMEDIATE RELEASE
7/31/2018 Wilmington, DE - The 2nd Annual Millennial Summit is the region's premier networking experience where young professionals, impact players, rising stars and innovators come together to connect and grow and is happening at the Chase Center August 7th, 2018.
This year, the organizers are launching an innovative fast paced meet and greet similar to a speed-dating format called the "Nonprofit Luau."
Guests will be introduced to approximately 20 nonprofits to make a connection, get involved, volunteer, become a board member, get hired, or just learn more to get involved. Attendees are encouraged to meet, and mingle with leading nonprofits and to share their experience on social media to raise awareness and support these great causes.
Each organization will have a display that will showcase their mission and their specific needs. Everyone at the event will be encouraged to post on social media and include the #NonprofitLuau and #MillSummit to gain big screen attention on a nearby "Tapp Twitter Wall". Attendees of the Luau are encouraged to retweet, and engage with the nonprofit they enjoy the most. The nonprofit who gains the most engagement during the event will win a free $500 Consultation with Brooke Chase of Tapp Network, the event emcee.
The Nonprofit Luau is free with your #MILLSUMMIT registration and will take place during the lunch hour from 12:00 - 12:45 PM. During the event, attendees will receive a complimentary drink provided by Swigg, a local curated bottle shop highlighting wines, beers, and spirits of independent producers and importers located in the Independence Mall on Concord Pike/Route 202. Special thanks also to Theatre N for the use of their gathering permit.
The Nonprofit Luau at #MILLSUMMIT is sponsored by mission-based marketing and technology agency: Tapp Network, LLC. (www.tappnetwork.com) and was created by Mill Summit planning members who are also Spur Impact Board Members (the nonprofit host organization behind the Millennial Summit) Brittany Keller and Adam Morgan.
Register for The Millennial Summit today to:
Expand your circle of influence
Create the career of your dreams
Impact your region
#MILLSUMMIT inspires attendees to speak up and get involved with their community, grow professionally, and connect with visionaries and innovators who are moving the needle!
Register here: https://millsummit.com/register
For more info visit: https://millsummit.com
###