On the off-chance that you've somehow missed our many previous announcements (we know, we know, we've been shouting it from the rooftops!), we wanted to give you all the details about #DEWITech.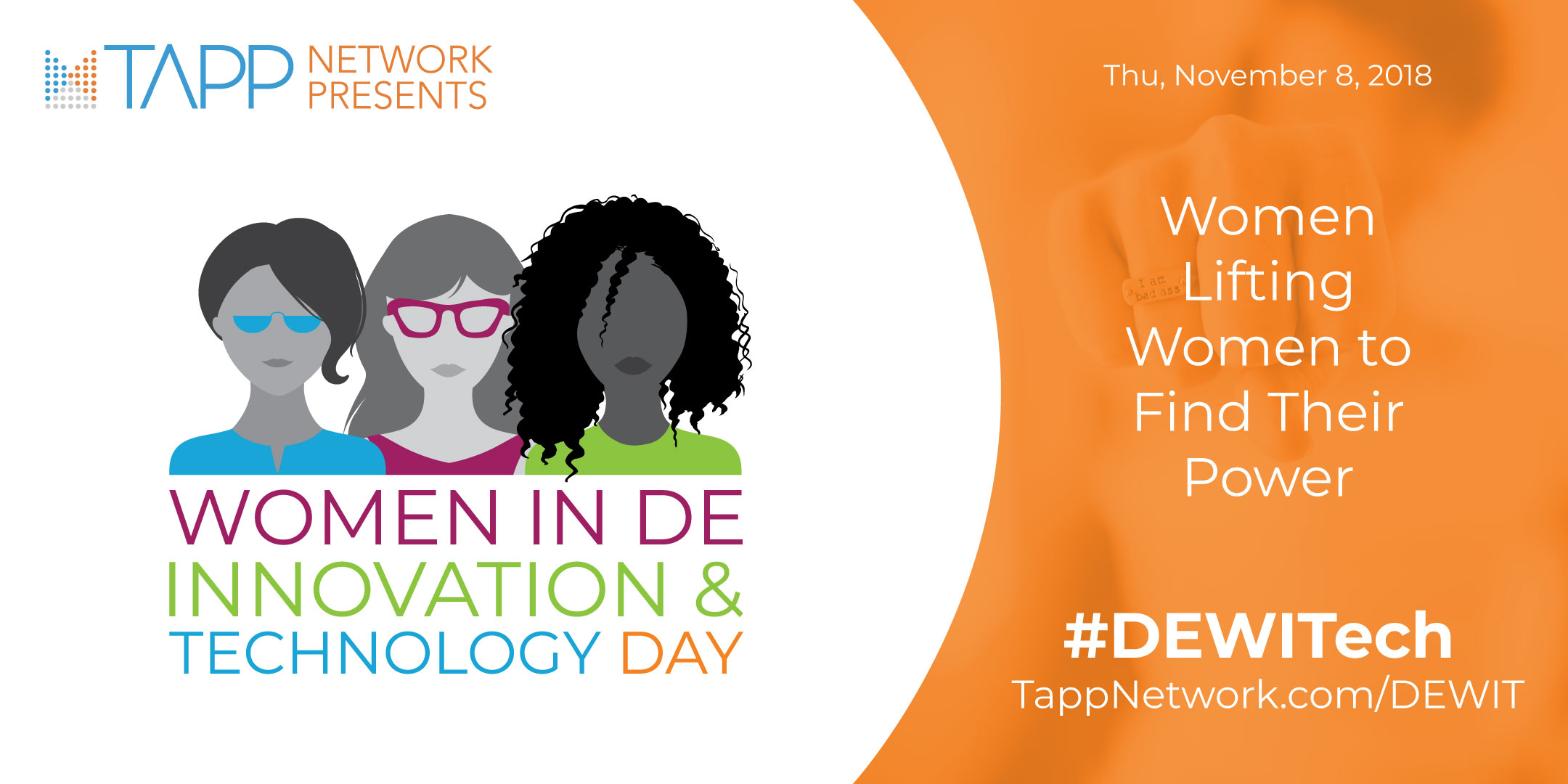 Women Lifting Women to Find Their Power
Tapp wasn't exactly planning on hosting this event. We knew we wanted to participate in Delaware Innovation Week 2018, and what began as a simple brainstorm to see what ideas we could come up with rapidly snowballed.
Our idea of a Women in Digital Open Meet Up expanded to include a Women Entrepreneur Panel, Young Women's Panel, and a Networking/ Women owned Business Marketplace.
Our Head of Inspiration (and the one who should take the most credit for making this happen), Collie Turner said this, "I'm so proud of Tapp Network. We are always thinking about how we can give back to our communities. Our leadership has been behind the concept of creating a Women in Innovation and Tech Day from the beginning. The event speakers come from all backgrounds, but they share a common spark: They are creating change. We're lucky enough to have a front row seat to these conversations and our hope is that it will inspire all of the attendees to find or continue on their own path of innovation."
Event Details
The event kicks off at 3 pm on November 8th. The first three events, the Women Entrepreneur Panel, Young Women's Panel, and a Networking/ Women owned Business Marketplace will run an hour long. At 6 pm the main event, a Women in Digital Meetup starts and will last two hours.
This free event will feature each local Delaware women innovators, business owners, and technologist. Sounds interesting? Peek at the agenda below. Already sold? Sign up for the event by clicking here.
Women Entrepreneur Panel
To start things off join us in the Hagley Room at The Mill from 3 to 4 for a panel on Women Entrepreneurs. Check out who will be speaking below:
Joani DiCampli, the Founder of Boobalicious
Gayle Dillman, Co-Owner, Gable Music Ventures LLC, Founder The LadyBug Music Festival
Amira Idris, CEO and Founder, TheraV
Cat Lindroth, Co-Founder of Social Contract and SummerCollab
Christina Pellicane, Director of Commercialization Programs for the Horn Entrepreneurship Center at the University of Delaware
Young Women's Panel
Hear from our future leaders. Featuring a few of Delaware's stand out high school students, listen to what inspires them and how they want to change the future of Delaware. Hear them from 4 pm - 5 pm in the Hagley Room at The Mill. Speakers include:
Deborah Olatunji, Aspiring Missionary Doctor and Educator, GripTape, Founder of the Student Leadership Initiative Program
Dorcas Olatunji, Aspiring Attorney and Programmer, Transforming Transportation App
Megan Chen, Entrepreneur, Founder of Re-Feeding America, Author of Finding Tiger
Networking/Marketplace
From 5 pm to 6 pm get a chance to network with other women in innovation and technology. Listen to the tunes of Outcalls while browsing the women's owned market place featuring Joani DiCampli and her product line Boobalicious along with Michelle Kinsman the Author of The Real World Feminist Handbook: Practical Advice on How to Win and Kick Ass at Your First Job.
Women in Digital Open Meetup
Ever needed work advice? Not just what to wear, but how to respond to someone when you are one of a few women in the department? We've all been there. That is why having some digital sisters can help. Starting at 6 pm meet members of Women in Digital, a national networking organization of women who work in the digital space. Talk to members and then sit down for a panel discussion run by the CEO of Women in Digital, Alaina Shearer.
Our featured panelist include:
Mona Parikh, Managing Director, Start It Up Delaware
Holly Quinn, Lead Reporter, Technical.ly Delaware
Jocelyn Harper, Full Stack Engineer, Capital One
Catherine Burch, Innovation Center Director, The Health & Technology Innovation Center at Christiana Care
Sound like something you want to be a part of? Seats are limited and going fast! Sign up today.