WILMINGTON, DE, Feb, 2020 - Tapp Network and TechSoup Global have teamed-up to bridge the gap amongst nonprofits seeking to transform their website development efforts in the digital age.
Together, Tapp Network will provide access to affordable website development services for TechSoup's 700,000 plus nonprofits in over 200 countries.
The average lifespan of a website is just 3 years. The digital space is continually evolving and many nonprofits are being left far behind. To compete, nonprofit websites need to be upgraded for security, automation, search engine optimization, commerce, and usability.
"It's an exciting time for nonprofits to embrace the latest advances in technology to affordably manage their websites at a fraction of the cost and time" says Joe DiGiovanni, co-founder of Tapp Network. "Many nonprofit directors have minimal marketing budgets and wear many hats. Our mission is to help them achieve their vision online with the trusted guidance they come to expect from our TechSoup and Tapp Network."
Website Service Offerings
From a free, real-time, Website Assessment Tool to a suite of affordable Website Services, Tapp will provide TechSoup's members a full suite of services including One-On-One Website Consultations, Website-Tune-Ups and Customizable Website Development Services for nonprofits of all shapes and sizes.
In addition to building highly engaging websites, the services will also focus on integrating and managing the web-based tools and technologies necessary to to their digital marketing needs; Social Media, Volunteer Recruitment, Fundraising, Content Management Systems (CMS), Customer Relationship Management Databases (CRM), Forms, Event Management, E-Mail, Marketing Automation, and more.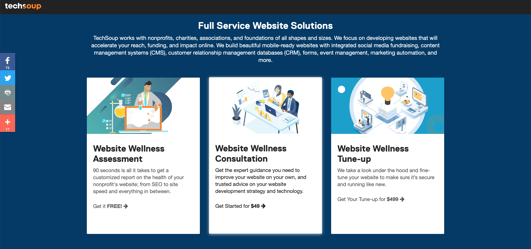 Visit https://page.techsoup.org/website-services to learn more or contact Joe DiGiovanni Joe@TappNetwork.com.
About Tapp Network
Tapp Network provides purpose-driven digital marketing and technology services to organizations seeking to make the world a better place. Tapp's mission is to transfer their global expertise to the nonprofit sector so they can achieve their vision. Tapp Network's Team has supported over 1,000 leading organizations including AARP, WNBA, National Association of Community Health Centers, Boys and Girls Clubs, The US Census, Tech Impact, The Oprah Winfrey Network, American Heart Association, TechSoup Global, and more.
About TechSoup
TechSoup provides the transformative technology solutions, the digital platforms, and the in-person experiences that enable people to work together toward a more equitable world. With 70 partner NGOs around the world, TechSoup manages the only global philanthropy program that brings together more than 100 tech companies to provide technology donations to NGOs everywhere. TechSoup's data and validation services enable companies, foundations, and governments to connect their philanthropic resources with vetted NGOs around the world. In the past 30 years, TechSoup has reached 1.06 million NGOs and facilitated distribution of technology products and grants valued at more than $11.1 billion. https://www.techsoup.org/
Visit https://page.techsoup.org/website-services to learn more or contact Joe DiGiovanni Joe@TappNetwork.com