We are honored and thankful for the national recognition provided by Chris Hickey and the Huffington Post. Keep reading for the full article.
Delaware Governor John Carney recently signed an innovation and entrepreneurship bill in hopes of renovating the state's economic development strategy. Two Delaware entrepreneurs, Joseph DiGiovanni and Kyle Barkins, are doing just that through the creation of their own marketing agency, TAPP Network. With a diverse team of creatives with backgrounds at Silicon Valley tech companies, Madison Avenue agencies, and Fortune 100 companies, Tapp assists its clients with fully integrated marketing strategies. Tapp's interesting point of differentiation is their commitment to supporting nonprofit, startup, and healthcare clients. "We work with a select group of nonprofits and startup organizations that share our mission-driven approach to success with a positive purpose and passion to succeed," shared DiGiovanni. This approach allows the eclectic team to provide small to mid-size nonprofits with cost effective marketing solutions.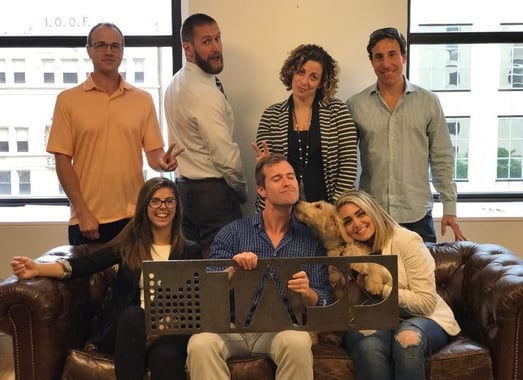 Our Family Photo!
Following Governor Carney's call for entrepreneurs to drive economic growth, the Delaware based startup agency loves that their work is "helping organizations make a lasting impact," said co-founder DiGiovanni. Tapp achieves this for its clients and the community with its blog and monthly workshops. Through an informative blog and monthly #TAPPSocial workshop series, Tapp explains the best tools and tips for nonprofits and mission-driven organizations to improve digital marketing efforts. #TAPPSocial events occur on the third Tuesday of every month. August featured a discussion about social media marketing for nonprofits. On September 19 and October 17, learn about online event marketing for nonprofits and grant writing to support your nonprofit's digital marketing and technology, respectively.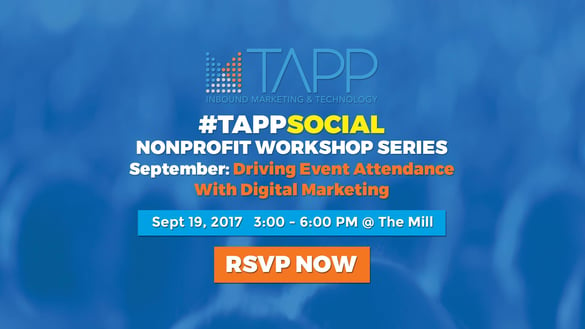 In just a few short years, Tapp is already fulfilling its mission and providing nonprofits with the marketing resources to make a lasting impact. Clients such as AARP have leveraged celebrity health experts, including Dr. Janet Taylor of the Today Show and Oprah, with Tapp's counsel to deliver strategy, content, and social media support. Tapp helped the Boys and Girls Club of Delaware launch its social media platforms, which led to integrating a customer relationship management system to over fifty statewide clubs. With Tapp's expertise, the Boys and Girls Club has increased its traffic by 400%.
The inaugural Millennial Summit, Delaware's take on the Forbes 30 under 30 conference, was one of Tapp's most recent endeavors. Tapp took the lead on event branding, sponsorship acquisition, ticket sales, and online engagement. The Millennial Summit reached over 1 million unique viewers online and 4 million total viewers. The event attracted speakers from Google, Microsoft, The Governor of Delaware, and many more.
DiGiovanni shared some tips for startups looking to improve their digital footprint. He advises nonprofits to "think like a startup and have a business plan with S.M.A.R.T goals." S.M.A.R.T goals are a better way of establishing feasible goals. They must be specific, measurable, attainable, relevant, and timely. In addition, rather than rely on grants, government funding, and a few select corporate partners, nonprofits must invest in a digital marketing plan. It's necessary to address their growing fundraising needs as well as other general needs to remain competitive and salient. In addition, DiGiovanni notes that nonprofits must "identify a strategic partner to cost effectively achieve your diverse digital marketing and technology development needs."
Simply put, interns will not suffice. This is not work to delegate to a seasonal employee as it is an opportunity to communicate your brand's story all throughout the year. The agency co-founder goes as far to say that senior managers may not have time or talent to manage all digital channels and initiatives. DiGiovanni advises organizations to seek out specialists in relevant marketing fields that to be an extension of your existing team. These individuals will help a nonprofit drive results and increase ROI.
As for the future, DiGiovanni predicts Tapp to soon be "recognized as a global leader in digital marketing and technology for nonprofits." Tapp will announce a "groundbreaking" national initiative in the fall. This announcement promises to disrupt the manner in which nonprofits generate digital donations.