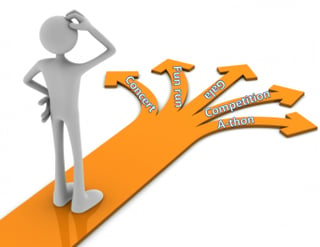 Nonprofit organizations host all types of fundraisers – from marathon teams, golf tournaments, and virtual 5Ks, to high end galas and auctions. Fundraising events can generate significant revenue for your organization, but often require more planning time and a larger budget than non-event fundraising endeavors.
Here's a very useful chart from Classy.org that shows ease of planning and event versus return on investment, for small, midsize, and large nonprofit organizations: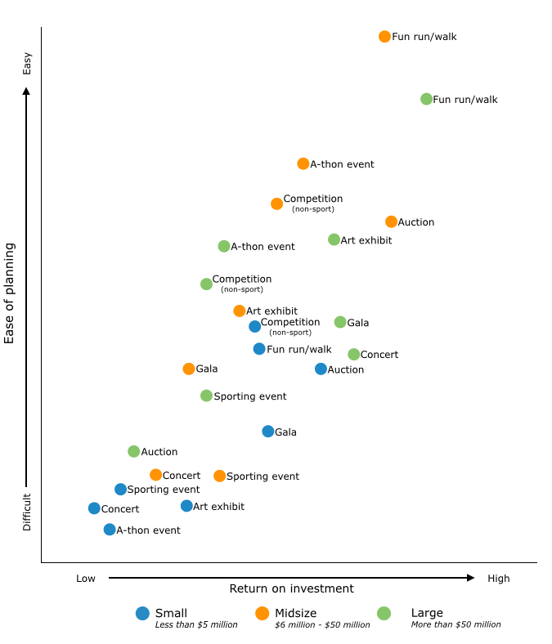 According to the research done to make this chart, there are some definitions of events you might not know:
A fun run/walk is not a formal event, and requires no permits or special road closures.
A-thon events are things like a walk-a-thon, dance-a-thon (like Penn State University's famous annual Thon), hike-a-thons, or anything-a-thon, as long as it's an activity that can be done for an extended period of time.
Non-sport competitions can include holiday specific competition, like a costume contest or a pie baking contest – try and think of an activity people can take pictures of that you can post to your organization's social media accounts.
Auctions are great revenue generator for all but large nonprofit organizations. Getting sponsors and partner organizations to donate items can increase your organization's ROI.
A gala is a large scale, formal event that includes at least dinner and some kind of entertainment. Here at Tapp, we market an annual Gala for one of our clients that is their largest fundraiser of the year (and we wrote that blog too!).
Concerts are really only a good idea for larger nonprofits – the upfront cost is risky for organizations without a big budget.
The most important thing about all of these events, or any other event you choose to do, is FOLLOW UP. Make sure you keep track of money and time spent, as well as promotional efforts, so you can evaluate what worked and didn't work when the event is over. You also want to make sure you're tracking ROI (How much money did you raise per dollar spent?) and effort, so you can make your own chart like the one above.
Some final advice from Classy.org on a few things you can do to increase donations on the day of the event includes:
Using fundraising and event software to reduce staff workload by automating common tasks and aggregating data.
Asking for monthly donations rather than just one-time donations.
Planing inspiring events, ensuring attendees leave with an understanding of your organization's mission and what they can do to help.