The Nonprofit Social Summit 2017 is coming to Wilmington, Delaware! — To empower nonprofits with the latest advancements in digital marketing & technology.
IWilmington, DE: The Mill Space and Theatre N at Nemours in partnership with TAPP Network and the region's top nonprofits are launching the area's first marketing technology summit for cause-related organizations. This will be the first in a series of educational workshops and networking events for nonprofit executives, staff, and supporters seeking to boost awareness, drive donations, fill events, and secure corporate sponsors in today's competitive mission driven economy.
When: Tuesday, June 20th, 2017 2-7pm
Where: The Mill / Theatre N at Nemours, 1007 N. Orange St, Wilmington, DE 19801
Details & Register: www.TappSocialSummit.com
Theatre N at Nemours 2nd Floor: 2-4 pm Workshops and Speaker Series
The Mill at Nemours 4th Floor: 4-7 pm Networking and Happy Hour
TAPP Social Summit is an interactive event for nonprofits and mission-driven organizations to collaborate and discuss innovative best practices in digital marketing, social media, fundraising and technology to compete on a local and global level.
Guest Speakers Include:
Patrick Callihan, Executive Director, Tech Impact
Peggy Geisler of PMG Consulting
Gaby Indellini, Social Media Specialist, Greater Wilmington Convention & Visitors Bureau
Jeff Flynn, Director of Economic Development, City of Wilmington
Tapp's educational events for nonprofits take technical subject matter and make it fun, engaging and most importantly, executable across the digital marketing mix.
-Hilary LaMotte Burke, MSW
Director, Marketing & Communications of Boys & Girls Clubs of Delaware
About Tapp Network
TAPP provides innovative digital marketing and technology solutions to Nonprofits and Mission-Driven Enterprises to make the world a better place. www.TappNetwork.com
Contact Name: Brooke Chase
Organization: Tapp Network
Phone Number: 610-368-3109
Email: Brooke@Tappnetwork.com
Press Image for Distribution and Sharing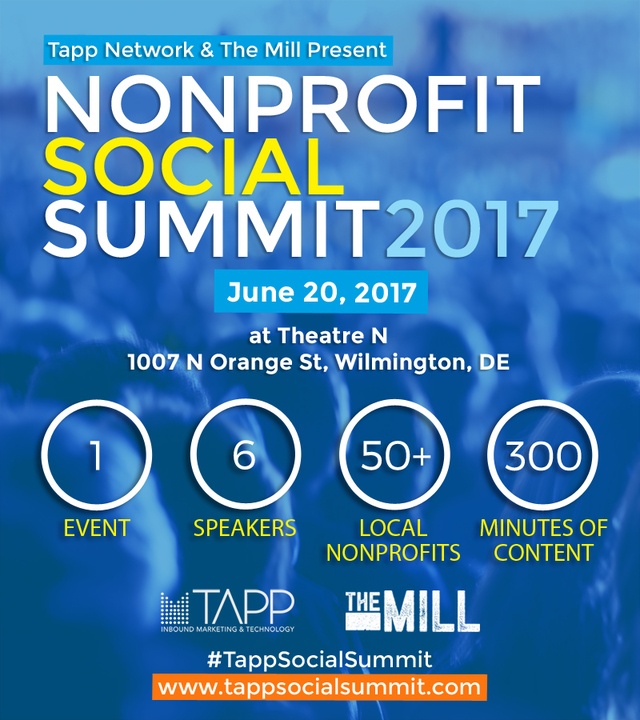 ###