Once dedicated to media relations and crisis communication, PR agencies have adapted and re-adapted to the changing times. However as marketing automation and mobile usage surges, PR firms lack the technological resources to compete with their inbound tech savvy competitors.
Search behavior around Public Relations peaked in 2005 in which there has been a steep decline over the 10 year time frame in this graph from the Google Trends report below.
PR's narrow focus on content marketing and social media storytelling has left many PR departments and agencies ill-prepared to take advantage of marketing automation platforms services such as HubSpot and others. Why have many PR agencies stood on the sidelines of such an important game?
Without strategic partnerships, technology and experience, many PR firms don't have the right model or platform resources to integrate and optimize digital ad buys, native advertising, e-mail marketing, SEO and content syndication that inbound offers. Most PR Firms do not has a global public agency with multiple subsidiaries to provide the technological expertise, and if they do they are charged top dollar back to the parent company.

It's technology that fuels the proverbial funnel that drives ROI and is now poking its head and differentiating the digital PR firms of old from true inbound PR firms of new. If a digital PR agency doesn't have and cannot gain control of their client's inbound media spending, it needs to find a way to bring the department that does to the table, have that conversation, and consider repositioning themselves as an in-bound agency of record.
Inbound is growing rapidly as the following graph indicates. This article outlines some key steps neccessary to evolve your PR firm into a true powerhouse inbound agency ASAP -- and get back to the value proposition table with your clients and prospects.
Gaining a seat at the table and having a discussion shouldn't be a difficult sell. Yet often it is, since many digital PR firms can not go beyond the inbound rhetoric and truly dive into the working mechanisms and value proposition of inbound that can truly redefine the way they build their brand and grow their business.
Gaining a partner to provide that expertise under your firm's brand umbrella is key. Having the extra intelligence and insights of a PR agency will only better serve your firm and the brand at the table. After all, each party involved in the conversation has a stake in the success of the brand's efforts to generate awareness, reach its target audiences, distribute its message, and, ultimately, become more profitable.
THE EIGHTFOLD PATH
A Roadmap to Repositioning your PR Firm as a Powerhouse Inbound Agency of Record
1. SOCIAL MEDIA – PR's 15 MINUTES OF FAME
When social broke onto the scene, PR agencies took control of their clients' community management. As affordable technologies and the understanding of the importance of an authentic brand voice became mainstream, businesses brought social media in-house. Again, PR Firms adapted, this time focusing on developing their clients' social strategies. However, social media independence is like media taxation without revenue representation.
Social Media strategy on its own, or simply part of a PR campaign, does not drive bottom line results. Unfortunately, The buck stops here – Awareness. As we know awareness is wonderful and it drives website traffic and leads people into the consideration phase of the buyers journey, but brands demand more closed loop results straight through the decision, purchase, and delight phases.
2. THE CONTENT MARKETING BANDWAGON
Another key change in recent years, PR agencies have made content marketing a core piece of their offerings. Considering PR firms' roots in helping brands tell their story, content marketing is a natural offshoot.
Content Marketing has been around for over 100 years, when the term became a monetizable mainstay in the marketing world 5-10 years ago, PR agencies had an advantage, as they had the content resources, writers, media contacts, and editorial connections to drive reach and distribution.
So today we have PR Firms that specialize in Social Media and Content Marketing, unfortunately the tools many are using are archaic and continue to commit acts of analytic adultery by overlaying finely designed graphics and gallantry to Google Analytics reports. The result has been a lot of noise clogging the top of the client's customer acquisition funnel, that a newly designed website and gallon of Draino couldn't unclog; and even the effectiveness at this stage is shrinking as SEO is more than just content marketing metatags.
3. The 7 LETTER WORD
For the PR firms that get their clients message to rise above the clutter online, many do not have the technology or expertise to nurture their clientele's audiences into marketing and sales qualified leads (MQLS & SQLS) and very rarely have the lead scoring and CRM integrations to drive the end goal; ......aka. R-E-V-E-N-U-E ; the 7 letter word that sends shivers down a PR Firm's Spine --- and shouldn't.
It's time to embrace revenue as a measurement and use it to your PR firm's advantage when closing and collaborating with clients. Simply measuring magazine mentions and impressions without delivering leads and sales is akin to listing the height, weight and autographs signed by the football team you drafted without measuring points scored, wins, and seats filled.
Today, the cost of running a content marketing team (aka Editorial Team) may not be very cost productive, unless your PR firm has the marketing automation tools, inbound marketing technologists, and CRM sales conversion scientists to maximize every SEO rich syllable of your content and convert it into MQLs and SQLs. Tech-lavish titles, but realistic job descriptions that are in high demand and come at a high cost if you hire a team of inbound marketing technology experts at the top of their game as part of your full-time staff.
4. THE FRANKENSTEIN APPROACH
The industry is in the midst of a new challenge, and it's time for PR agencies to evolve again, and this time stay on top and become leaders in a field that they have every right to own and dominate as content and communications are at the heart of any campaign. Today, these campaigns need to be integrated and seamlessly automated, The Frankenstein approach of linking up Hoot Suite, Google Analytics, Mail Chimp and more won't work anymore. It's too time consuming, costly, and ineffective when compared to the competition utilizing platforms such as Hubspot and others that can get the work done in a fraction of the time and optimize results for a measurably higher ROI.
Though many PR Firms will continue and should rely on internal support for content creation and social engagement, the ability to combine earned and paid media services into automated marketing workflows via inbound will become a key market differentiator among PR agencies. The time for PR agencies to evolve into inbound agencies of record is now, or die on the Vine, Periscope, YouTube, or 20 pages back on Google Search, the choices are many.
5. THE PR DATA DROUGHT
All too often, PR agencies fight for access to clients' analytics and data, including metrics that show conversion rates. All too often PR is shut out of the conversation about strategy at the top level of conversations where the inbound conversations take hold.
PR agencies are brand advocates, and anything that impacts the top of the funnel should fall under their microscope. To get data access, a PR firm must master it. This can all be overcome through owning and implementing the inbound marketing proccess. This will enable you to sell better, close faster, and provide the awareness, leads, and sales your clients need beyond good press and page views.
6. THE INBOUND OPPORTUNITY
The problem that PR agencies face hasn't fully come to a head. It will soon, though, and steps need to be taken today. Most PR practitioners don't have budget responsibility for paid media. In most places, the content syndication and native advertising budget still sits with digital marketing and demand generation teams.
If PR agencies can show the benefit of connecting digital and traditional earned media through in-bound, marketing the budget authority could shift, giving PR agencies more opportunity to help clients and become Inbound Media Agencies of Record. To do so many PR Firms are turning to certified agency partners to integrate inbound marketing platforms, such as Hubspot, for their own agency and their clients.
It may be time to reimagine your PR firm's human resources, talent, technology and service offerings to outcompete the Global Agencies with 1,000 plus employees that tap their subsidiaries for the technological expertise to run a successful inbound platform and workflow campaigns. Quite often, they over charge their sister companies and communications get lost in translation at these monster sized firms.
Now here is the good news, your mid-sized PR agency can do it for a fraction of the cost and deliver better results through strategic partnerships with firms that specialize in inbound marketing technology integrations, workflow campaigns, growth-driven web design, and marketing-CRM automation.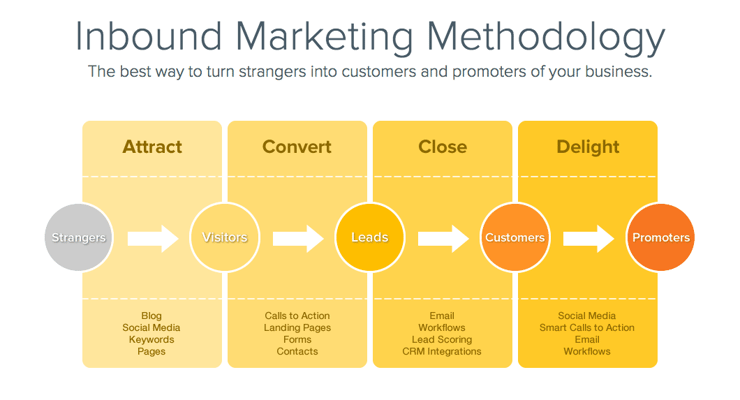 7. RAMPING UP FOR RAPID GROWTH
As of 2015. HubSpot is a publicly traded company with more than 15,000 customers worldwide, a market capitalization exceeding $1.8 billion (as of May 22, 2015), an Inbound conference that is expected to attract 13,000-plus attendees this fall, and an agency partner program that includes more than 2,300 agencies in 90 countries and accounts for an estimated 40 percent of total revenue.
As a certified HubSpot service provider, we support agencies in vetting, onboarding, and supporting agencies and clients with HupSpot to fully maximize all of their internal resources and technology integrations.
As HubSpot has grown, so has the market potential for PR agencies to partner with Hubspot technology providers. HubSpot estimates that for every $1 spent on marketing software, $5 to $10 is spent on agency services. The PR agencies that saw the opportunity, took a chance, and partnered with Tech Savvy Inbound Service Provider Firms have created a distinct competitive advantage over their PR peers.
Outsourcing technology and digital marketing services is not new and the innovators in the field have been in the non-profit world, where outsourcing technology is a key to many NPO's success. One pioneering leader in the field is TechImpact.org, a technology services provider to non-profits that has over 200 NPO clients that utilize their services and continue to grow at a very rapid pace. Most non-profits have a PR or Communication person, and like many PR agencies, need the inbound marketing expertise and technologists to drive their earned media and reach their measurable goals. In the B2B and B2C world, the need for firms to outsource and partner is equally strong.
8. PARTNER & FLOURISH vs PUBLISH or PERISH
The need for PR agencies to make a change is absolute. Partnerships are critical. The question that remains is should PR agencies encourage clients and core constituents to take continue to wrestle for control of content syndication budgets and analyze effectiveness of spend without ownership of the over-arching inbound proccess? or should they simply sit on the sidelines for when their clients make their internal shifts and hires to inbound? The answer is Neither.
Be proactive, consider partnering with an inbound marketing technology firm and open your eyes to synergistic alliances that can rapidly evolve your offerings into inbound solutions to meet your client's needs, mitigate your risk and catapult your PR firm and client's revenues above the competition.