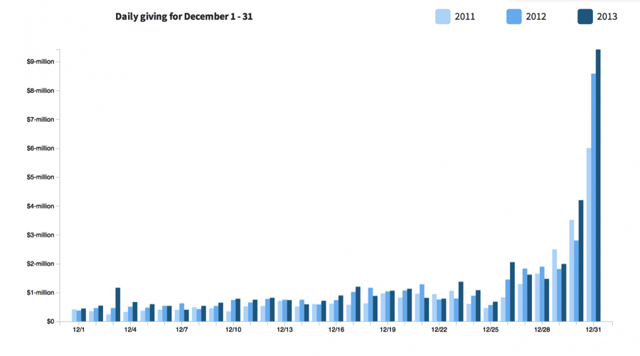 5 Fundraising Benchmarks Every Non-Profit Should Know to Double December Donations
November and December are the most important fundraising months of the year for nonprofits. The giving season is just around the corner! Now is the best time to optimize your online giving platform to maximize your year-end donations this year.
Right after Thanksgiving, charities nationwide will embark on the most important fundraising sprint of the year. The stakes are now even greater with Giving Tuesday on the horizon as every non-profit must think and act like a retailer, planning months in advance for one of the biggest days and months of the year.
After the Black Friday dust settles, just hours after most Americans have had a chance to digest their turkey and cranberries, it's off to the NPO races as up to one third of your nonprofit's 12 month fundraising goals come down to the next 30 days.
As such, every board member should be aware of the following December-Donation-Drivers that can make or break your organization's annual goals.
BENCHMARKS
1: 30% of Nonprofit Fundraising occurs in December*
2: 10% of All Online Fundraising Occurs the Last 3 Days of The Year*
3: 30% of Donation Page Traffic to occur on December 1st #GivingTuesday
4: 200% More Donations are raised by Mobile-Responsive Nonprofit Websites than Non-Mobile Optimized Sites
5: 52% higher donations values are attributed to December than any other time of yearBEST PRACTICES
This data does not lie. Time to start now.
A) start building e-mail lists and social media relationships with supporters in November;
B) upgrade their site to be mobile responsive;
C) change their websites to make donation collecting their focus during December;
E) hyper focus on social media for #GivingTuesday;
F ) and send several reminder e-mails during the last week of December to capture those precious dollars during the those final 72 hours of the year.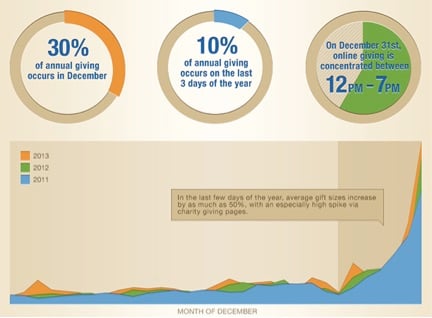 5 Critical Questions to Ask Your Team
What are our fundraising goals for this giving season?
Do we have an integrated online and offline campaign strategy to meet our goals in December?
What is our process for identifying, nurturing and closing marketing qualified leads and sales qualified leads?
Do we have a mobile optimized website to meet the demand of the 80% of our constituents who own a smartphone?
Do we have a qualified team to execute the campaigns to meet these goals?
Donors who start giving in December are worth more over time. Over three years, the total amount they give is 52 percent higher than people who start giving at other times of year, according to Network for Good.
Couple that with a 200% increase in donations by mobile optimizing your site, and your foundation can be poised to more than double their December fundraising efforts.
By Joseph DiGiovanni - Co-Founder, Tapp Network - Digital Marketing for Nonprofits (A TechImpact.org Digital Marketing Technology Partner) and Certified Hubspot Partner Joe@TappNetwork.com
Want to Learn More? Register for our Digital Marketing for Non-Profits Webinar with Tech Impact Nov 17th (6 spots left) Click Here
To Download a Free "Donation Planning Worksheet" (Excel) Click Here
Sources: Network for Good Global Giving Report, Network for Good, Donor Drive